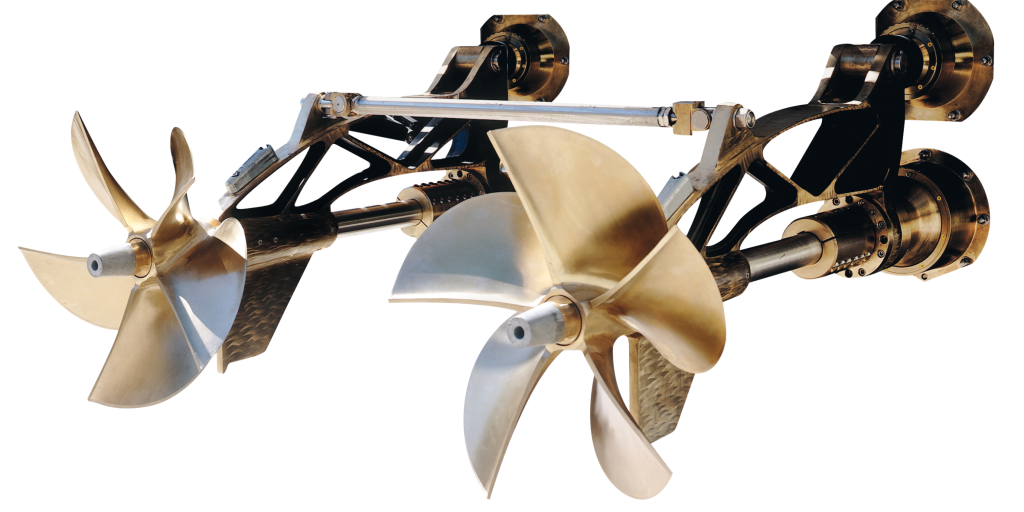 SDS SURFACE DRIVE SYSTEM®
Complete marine propulsion systems including surface drives and surface piercing propellers.
Only for fast boats with planning hulls from 10 to 40 meters from 30 knots to 70 knots.
Trimmable and steerable marine surface drives.
France Hélices is a french company created by M. PAUL BEZZI specialized in the manufacture of marine propulsion systems, including surface drive systems for boats. The company offers a range of surface drive systems that are designed for high performance vessels.
The surface drives systems of France Hélices use piercing propellers. The propeller blades are designed to provide maximum speed and efficiency, while the trim allows the operator to adjust the drives and propellers angle to improve performance and control.
One of the advantages of France Hélices's surface drives systems is its ability to operate in shallow water, making it ideal for boats and vessels that need to navigate in shallow water areas.
The SDS surface drives systems of France Hélices also offer excellent manoeuvrability and control, allowing the operator to precisely adjust the speed and direction of the boat.
This makes the SDS systems ideal for high performance boats as yachts, interceptors, coast guards, ambulance, FCB, FPB…