Our teams offer a top-of-the-range, tailor-made service to support you in your projects according to your specifications (pleasure, workboat and defence vessels…) to exceed performance requirements. SDS drives are designed and manufactured in Cannes France.
FIRST STEP : TECHNICAL STUDY AND FEASIBILITY WITH OUR ON-SITE R&D DEPARTMENT
Our engineers and designers integrate the specifications provided by our customers in order to propose the SDS model adapted to the characteristics of the vessel and the performance to achieve.
We work closely with our customers, shipyards, engine manufacturers and international naval architects on each case for the best solution for the implementation of the SDS on the ship.
Our engineering department is equipped with the latest CFD, CAD, CAD and CAM softwares.
The constant effort in research and development by FRANCE HELICES has improved the efficiency of the surface propellers up to 10% during the last decade. The surface piercing propeller FH5SSP model shows an efficiency above 75% in cavitation tunnel tests.
Every vessel equipped with surface drives has its own calculated propellers in 4, 5 or 6 blades, in size from 20″ to 60″ of diameter manufactured in Ni-Br-Al material.
Once the SDS model is confirmed, we start manufacturing the SDS and the surface piercing propellers for assembling.
MAIN STEPS : PROPELLERS MANUFACTURING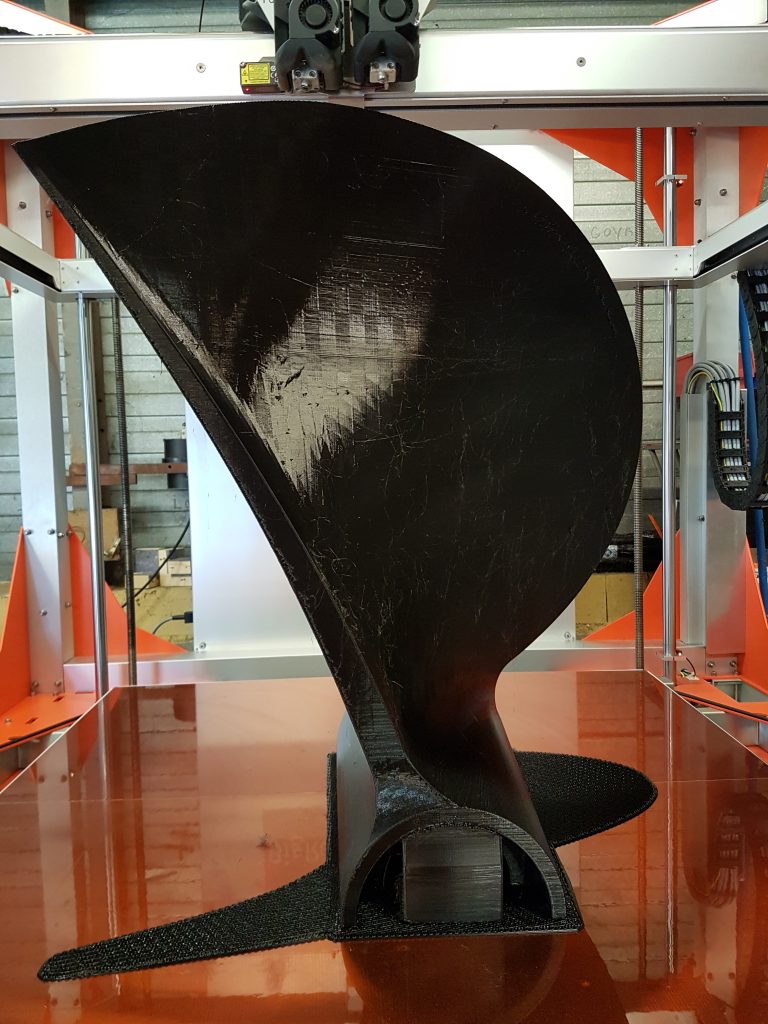 Pattern making for casting
A state-of-the-art 3D printer allows us to manufacture these blade models on site according to the 3D patterns provided by the engineering department. This large-scale 3D printer is designed for high performance industrial application (up to 1m3). Every surface piercing propellers are custom made.
Foundry
These patterns are then used to create the moulds according to different techniques. We give a high priority to the quality of the selected metals to ensure endurance and optimal quality of your propulsion. A high-strength Nickel-Bronze-Aluminium alloy will then be casted into these moulds. Depending on the alloys, the metal is casted at casting temperatures ranging from 1200°C to 1600°C in our top quality partner foundries.
Machining on a 5-axis CNC milling machine
Our latest generation of digital Computer-Aided Manufacturing (CAM) tools increase productivity and the quality of the finished product. The numerical simulation of machining operations is integrated into the engineering department before production.

The surface piercing cast propellers are machined on our CNC milling machines with a high degree of accuracy to the nearest hundredth of a millimetre according to class S of ISO 484-2:2015.
All our surface piercing propellers type FHSSP have a brushed finition.
Dynamic balancing
Dynamic balancing of the surface piercing propeller is done on the electronic balance according to ISO 484-2:2015, class S.
Dynamic balancing rotates the propeller to determine if a correction is necessary to eliminate any vibration and obtain a propeller that meets the required tolerances.
LAST STEPS : QUALITY CONTROL AND PACKING
Quality control carried out throughout the various manufacturing stages and in accordance with ISO 9001:2015, guarantee the end user optimal quality.
FRANCE HELICES controls and issues a final inspection by electronic pitchometer according to ISO 484-2:2015 class S standard.

Before being packed our SDS are systematically tested on a test bench for a last quality control. A Computerized Measurement Machine report is supplied for each propeller.
Our propulsion systems can be certified by the main classification societies: Lloyds, RINA, BV, ABS, CCS…