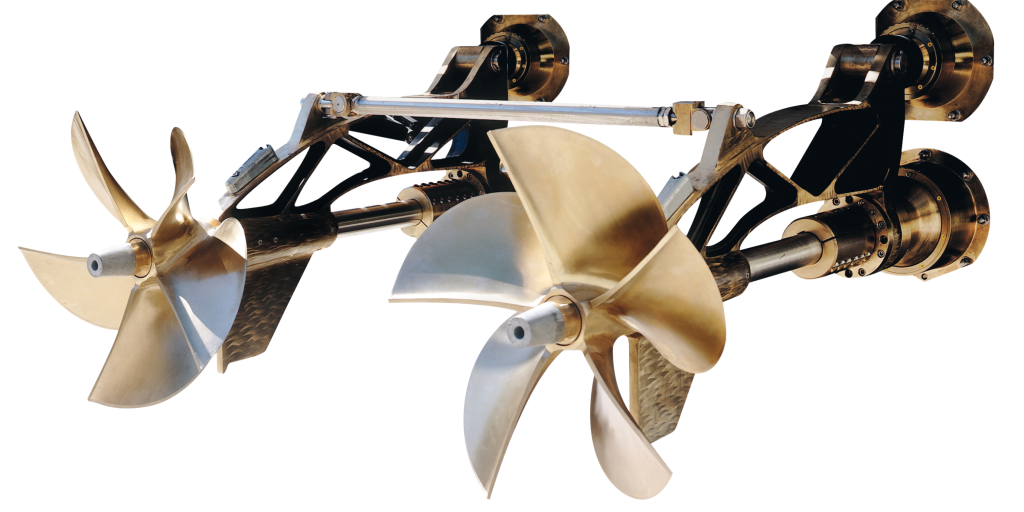 SDS is a complete marine transmissions package including boat propellers : The Surface Drive System SDS has been specifically designed to deliver exceptional performance to fast planing yachts, sport fishing boats, racing boats and professional applications where acceleration, high speed and endurance are a necessity such as ambulance, pilot boat, patrol boat, high-speed interceptor, RIB, search and rescue vessel, coast guard…
FRANCE HELICES manufactures its propellers and surface drives in its same plant in FRANCE
which guarantee you the best quality.
How does SDS propulsion system work ?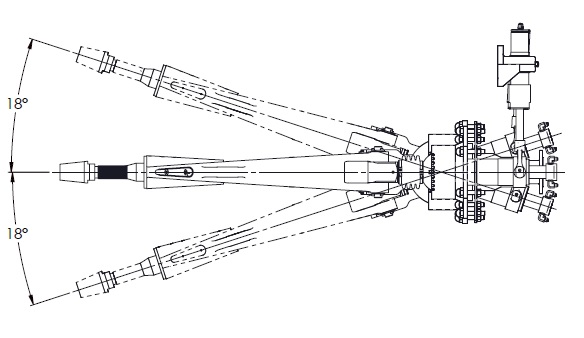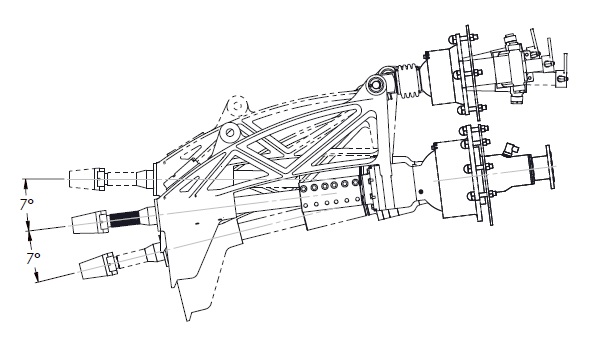 The values are given only as an indication.
A complete propulsion package including Surface Drives and Surface piercing propellers:
A pair of SDS surface drives trimmable and steerable
A pair of surface piercing propellers in NiBrAl (Class S) machined with CNC milling machine
Integrated panel
Hydraulics and steering equipment
Emergency backup system
Cardan shafts
Indicators and sensors
Coupling flanges
Designed and manufactured in our workshops in France
If your vessel requires more than a pair of surface drives, or options such as autotrim, giroscope, motor load management, pre-programmed position, connection to a main control panel please contact us our R&D will be pleased to study your specifications and offer a customized package.
Calculate online the SDS marine transmissions model that will suit your vessel here.
Calculate online the SDS model that will suit your vessel here.
Please check our range of 10 Surface drives models :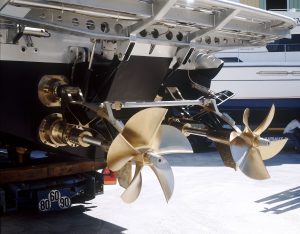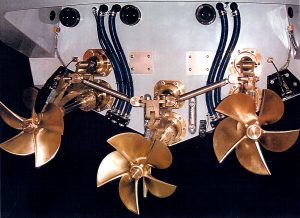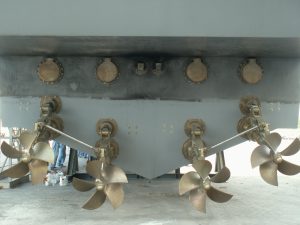 FEATURES SDS SURFACE DRIVE SYSTEM
compared to conventional propulsion system
Guaranteed performance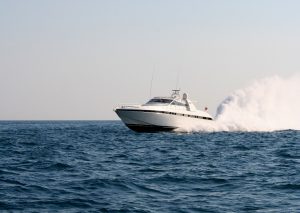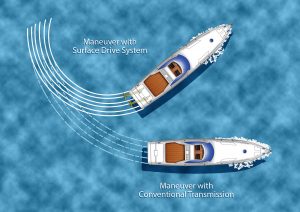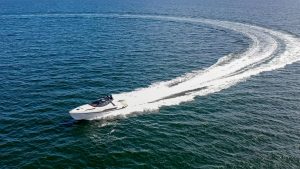 Complete marine transmissions package including a pair of surface drives and surface piercing propellers
15% extra speed increase
Hydraulic parts inside the hull
Tremendous steering capacity at high speed
U turn in two boat lengths
The ability to enter shallow waters
High reliability
Material: High quality Ni-Br-Al
Low maintenance costs, easy maintenance
Worldwide assistance (spare parts and technicians)
Reliability & Efficiency
With our SURFACE DRIVE SYSTEM, all vital components are protected from salt and water corrosion as all cables, sensors, hydraulics, hoses, and electric connections are inside the engine room.
Every part of the SDS is thought and conceived to be heavy duty and has a rigourous quality control at each production step.
High strength material such as NiBrAl is used for boat propulsion endurance and performance. Please consult our manufacturing processes.
R&D
Years of research, development and rigourous testing have resulted in the development of SDS Surface Drives, the most reliable surface drive transmission system.
The constant effort in R&D by FRANCE HELICES has improved the efficiency of the surface piercing propellers up to 10% during the last decade. The FH5SSP model shows an efficiency above 75% in the cavitation tunnel test.
Surface piercing propeller design reduces underwater drag 50% at full speed, over conventional propellers while delivering excellent fuel efficiency and comfort.
FRANCE HELICES Surface Piercing propllers are manufactured to perfection on the latest 5 axis CNC machine according to ISO 484/2:2015 with a high degree of precision of class S tolerances. These high quality propellers made in NiBrAl are ideal for planing yacht, coast guards, high speed commercial vessel, navy, fast patrol boat.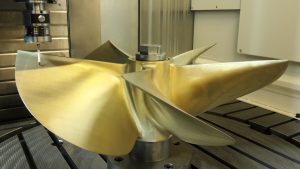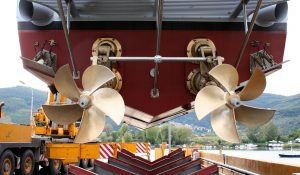 Vessels requirements to implement an SDS Surface Drives
The hull
SDS surface drives is made only for high speed crafts. For surface drives the hull form must be a planing hull type.
The engine
SDS Surface Drives are appropriate to diesel engines, gasoline engines, hybrid engines, electric and turbines engines. We equip high speed crafts with all big names of marine engines as MTU, Caterpillar, Volvo, Man, Cummins…
Power/Weight ratio
To improve speed, compared to conventional propulsion, the target must be above 25 knots and power/weight ratio must be above 50 horse power per tons. We can support you for the choice of the gear ratio.
Easy installation & maintenance for our SDS Surface Drives
Your shipyard technicians will assemble the SDS to the vessel. A hull perforation drawing along with an installation instructions manual will be supplied. An annual maintenance is recommended for the best performances. In case you need assistance for the installation, our SDS team will be pleased to assist you.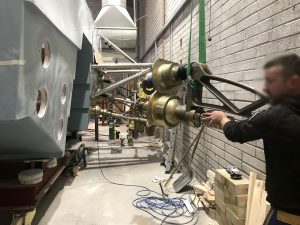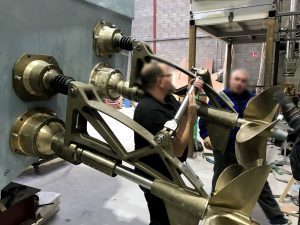 SDS Surface Drives Certification
Our propulsion systems can be certified by the main classification societies : BV, Lloyd's, RINA, ABS, CCS… If you have a special request for certification in your country please ask us at your first demand of SDS surface drives.
Our company FRANCE HELICES Cannes has been certified ISO 9001:2015 by the BUREAU VERITAS Certification for its fields of activities : design, manufacture, marketing and repair of marine propulsion systems with propellers.
Environment
Fuel efficiency with an SDS propulsion: 15% saving compared to conventional propulsion.
Since 2014, our company has been committed to CSR 26000 and Innovation.
Social, economic and environmental responsibility is part of our company's internal strategy.
Our teams are aware of and committed to an environmental approach aimed at reducing its environmental impacts and preserving the environment.
Old propellers and SDS bodies are recyclable. Please insure them a second life. Metal recycling protects the environment and saves energy.
Several tons of metals are collected and sorted each year and sorted each year from our factories by recognized independent organizations.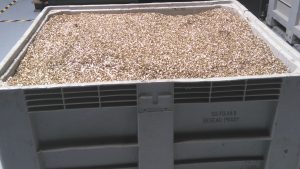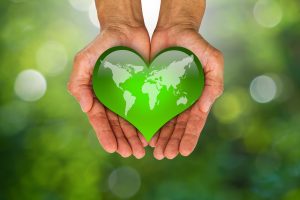 Gallery